This is my second visit to Tobermory, Ontario. As I have mentioned, my first visit was for a four-day wildflower photo safari as part of a certificate in fine-art digital photography. I rented a macro lens to try out and quickly learned that laying on the ground to photograph 1/4 inch orchids was not my cup of tea. Beautiful, yes; my passion, no. So I left the fold to focus on photographing the coast, birds, the harbor and boats. One of these images was accepted in a juried all-media competition. I call it Elements: Flight. It is a panned image of a cormorant in flight, came out just as I hoped with streaks of green trees above and streaks of blue water below. This image is from when it hung at the art center. It now hangs above my couch.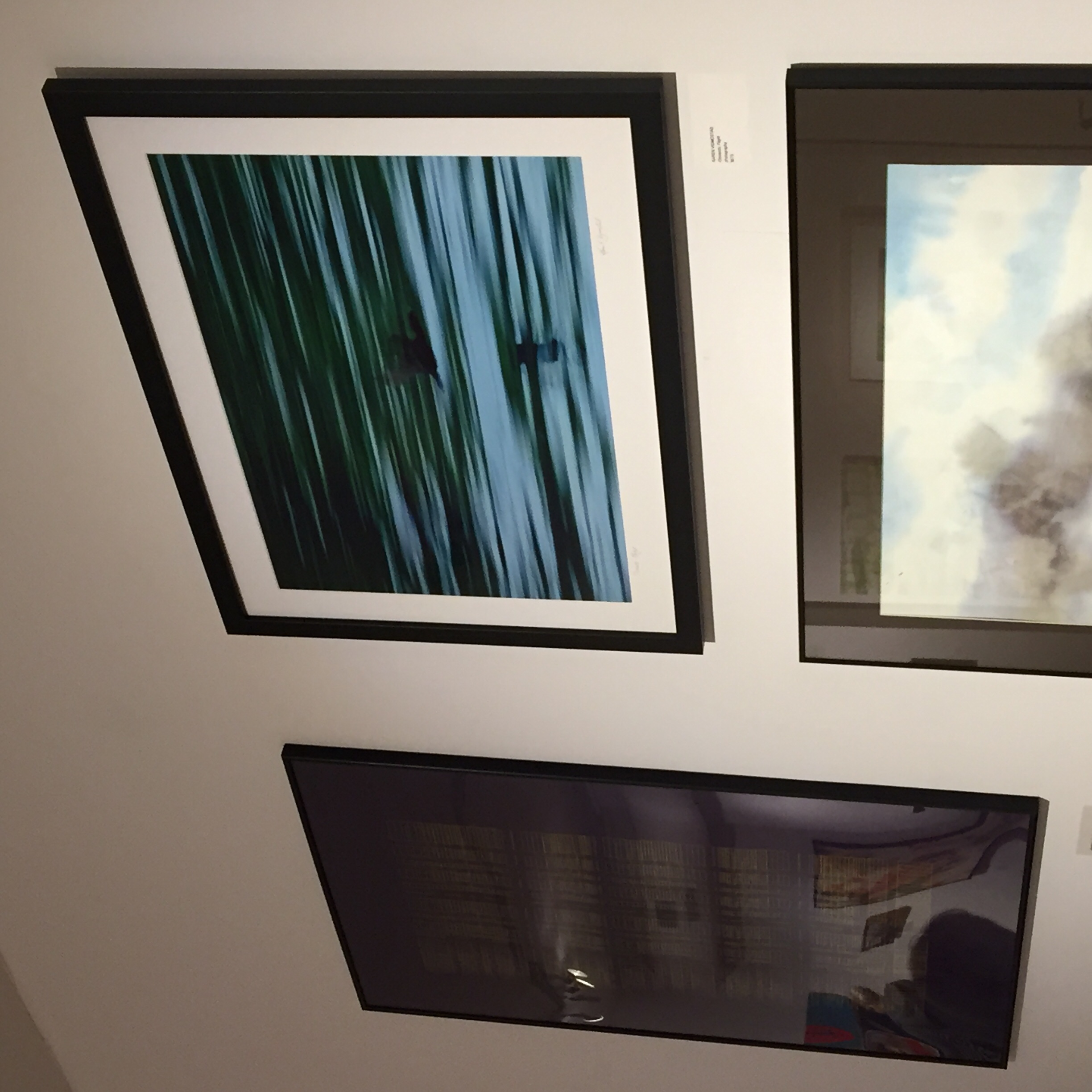 This visit is more low key and relaxed. I enjoyed a lovely scrambled eggs and fresh fruit breakfast with my hosts, Jim and Karen, overlooking Eagle Harbour.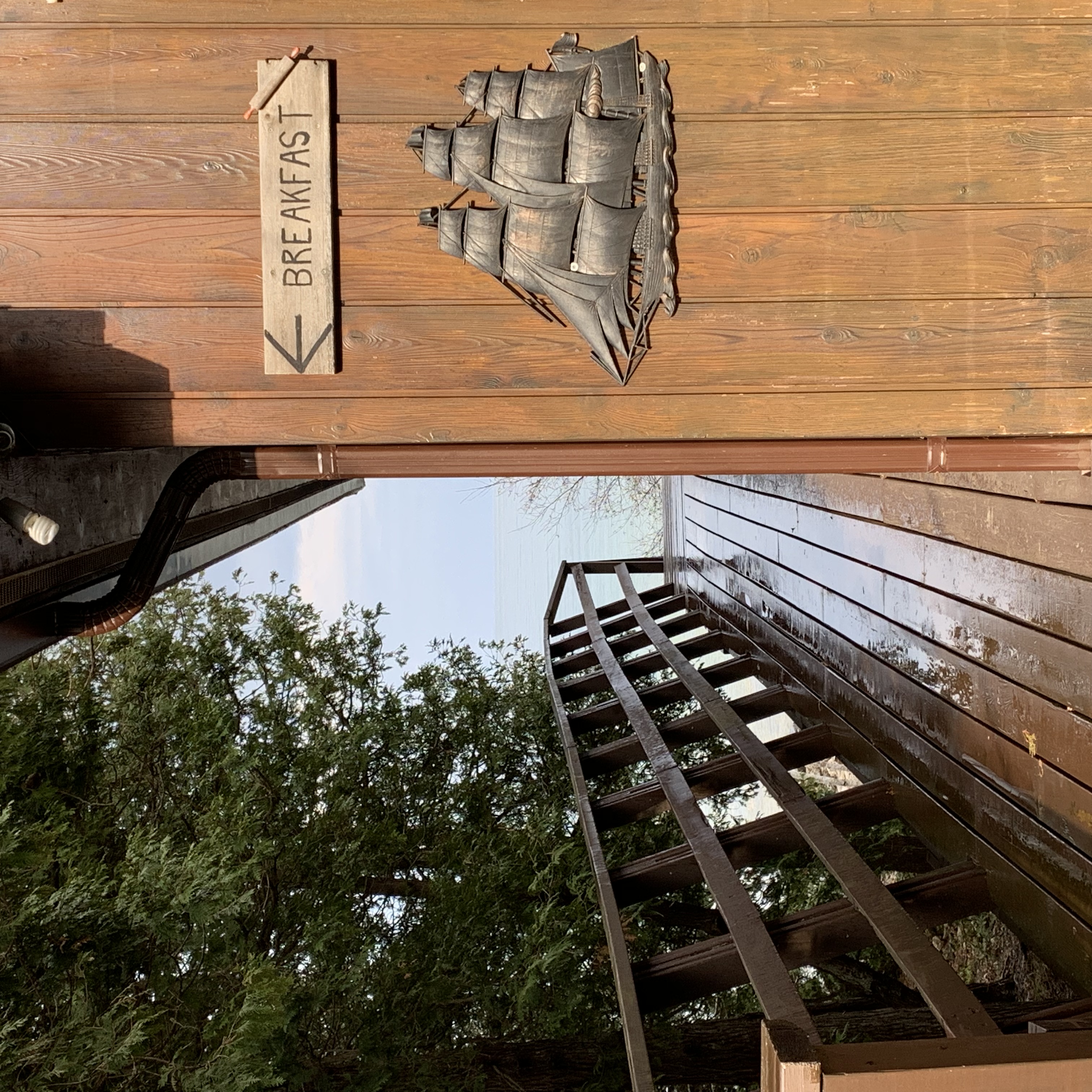 Then it was off to town to figure out where I would board the ferry. On the way I stopped at the Tobermory Airport–that seems to be on an eternal pause–to capture a few images. One sweet red plane awaits it's time in the air.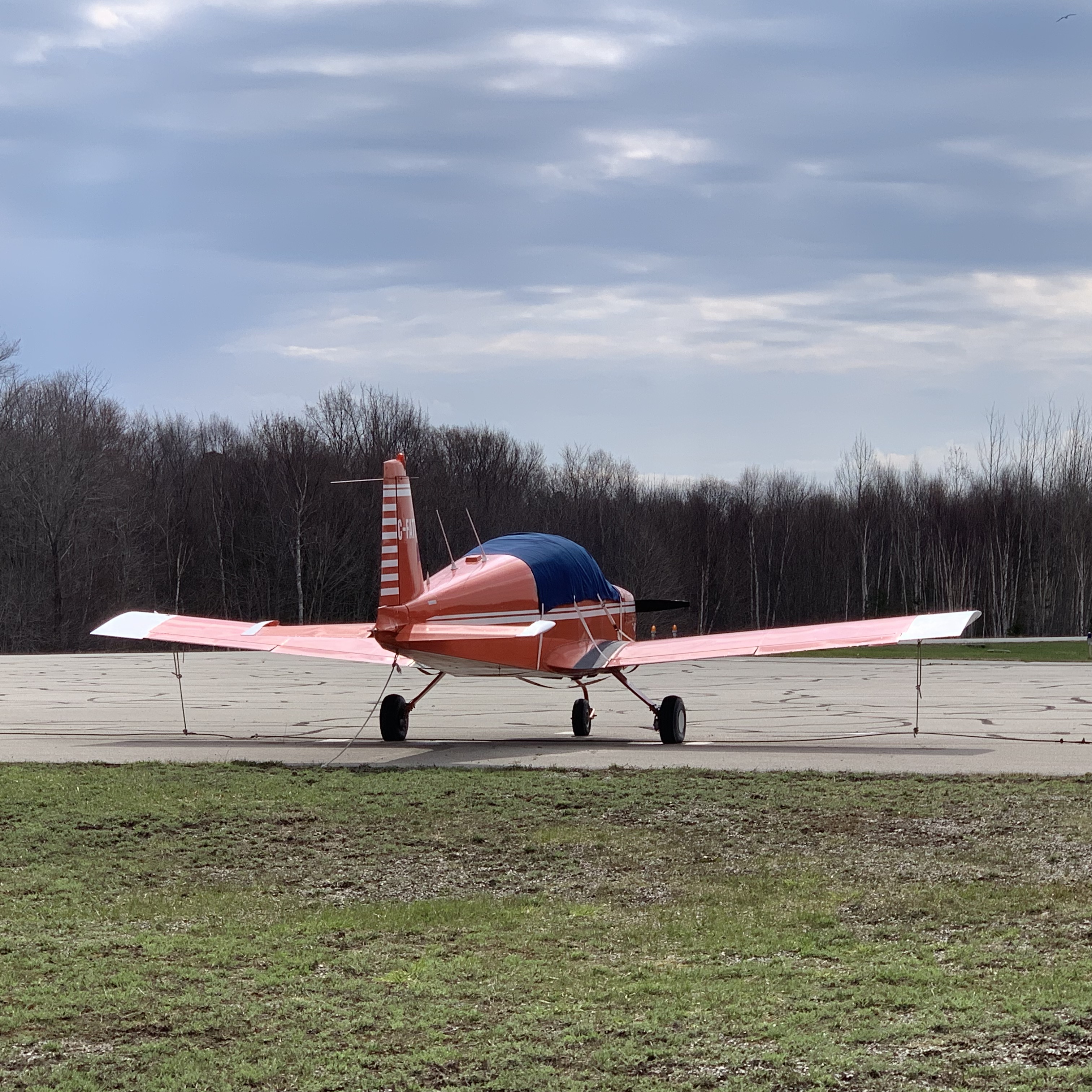 The rest of the airport is resting.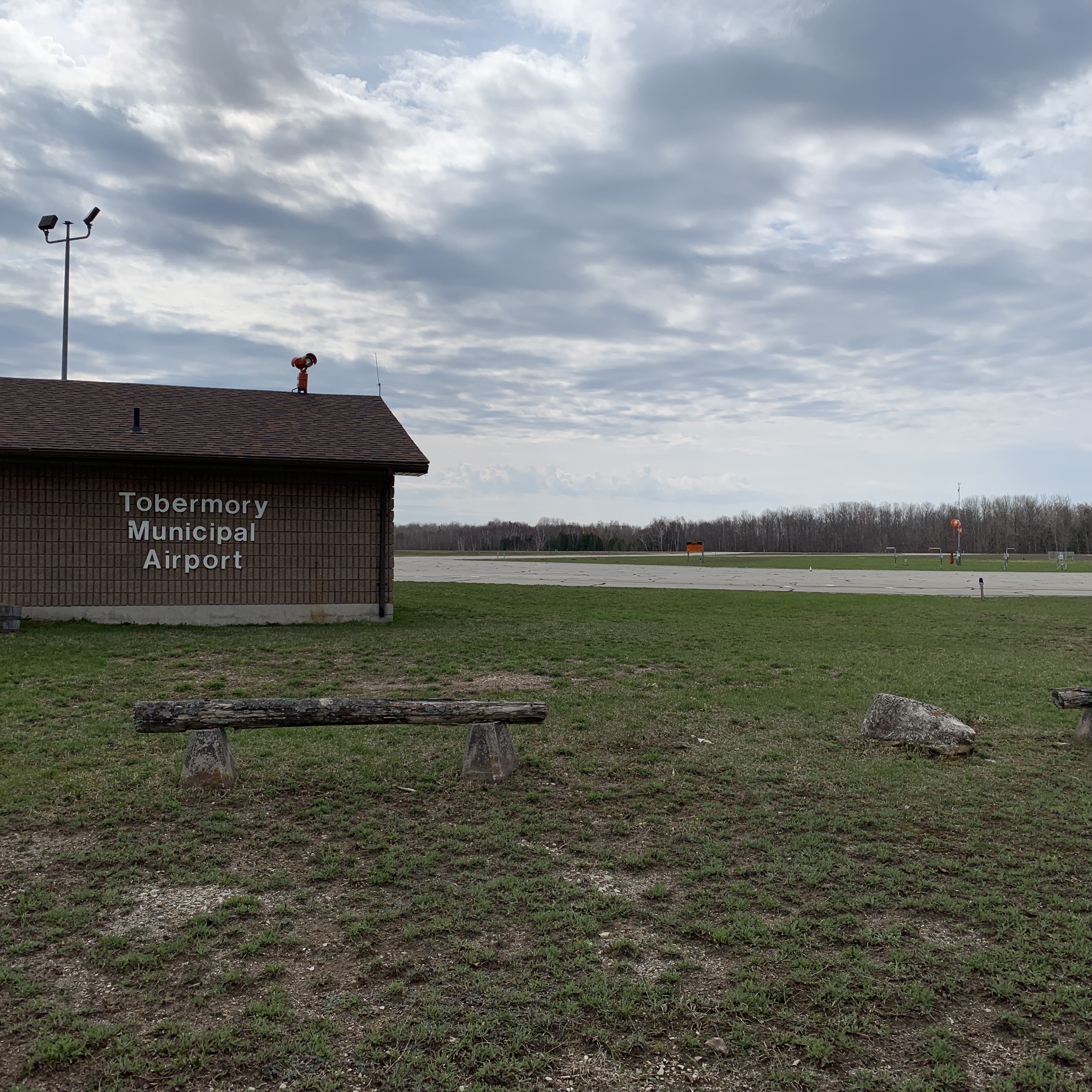 I am so glad that I went to the ferry dock. It's quite confusing. The streets are all one-way. There is a parking "area" where you line up in one of four rows.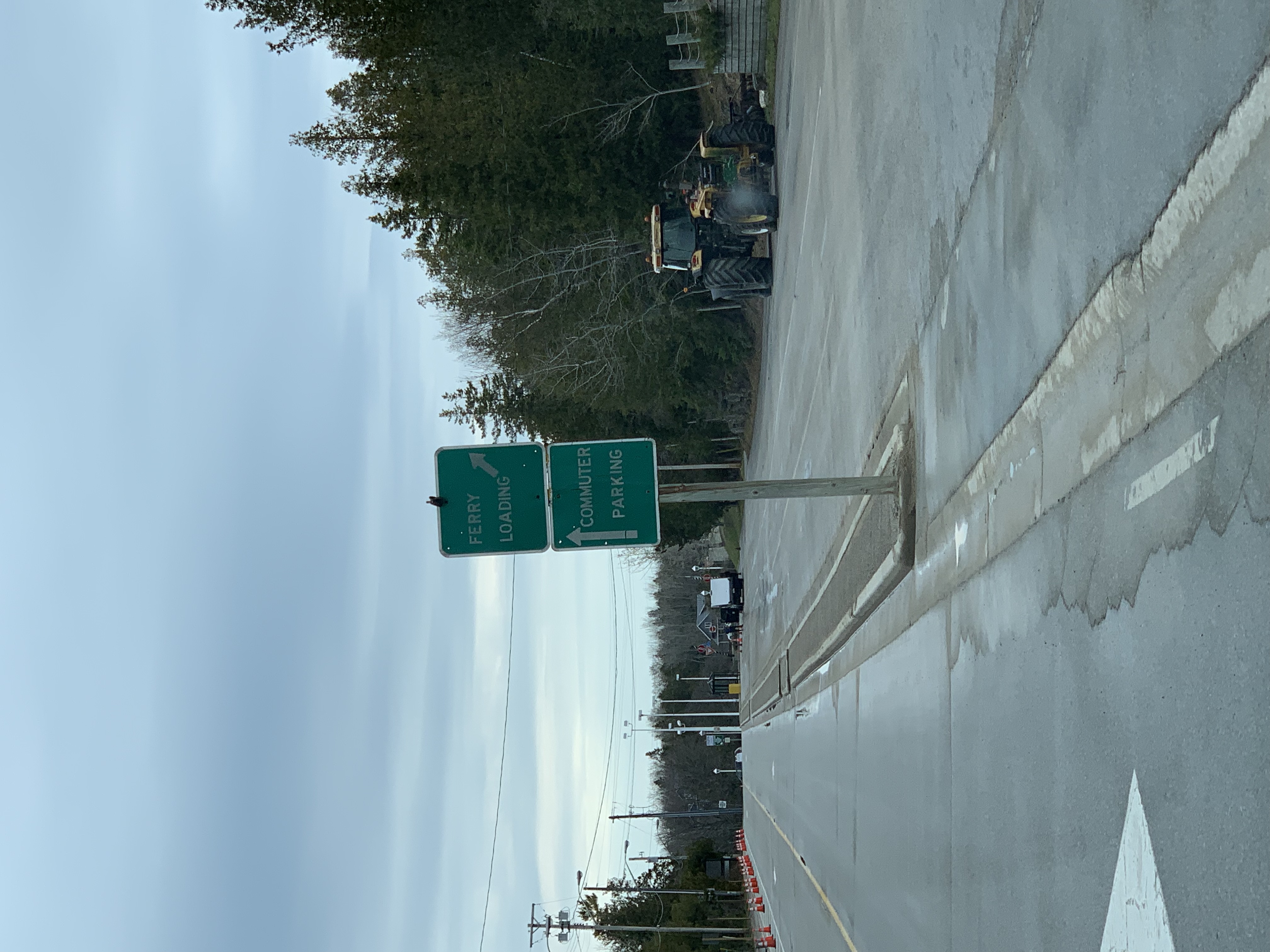 You can park ahead of time and just leave (abandon?) your vehicle there until a half hour before loading. At the end of this block is a sign pointing to the ferry loading area.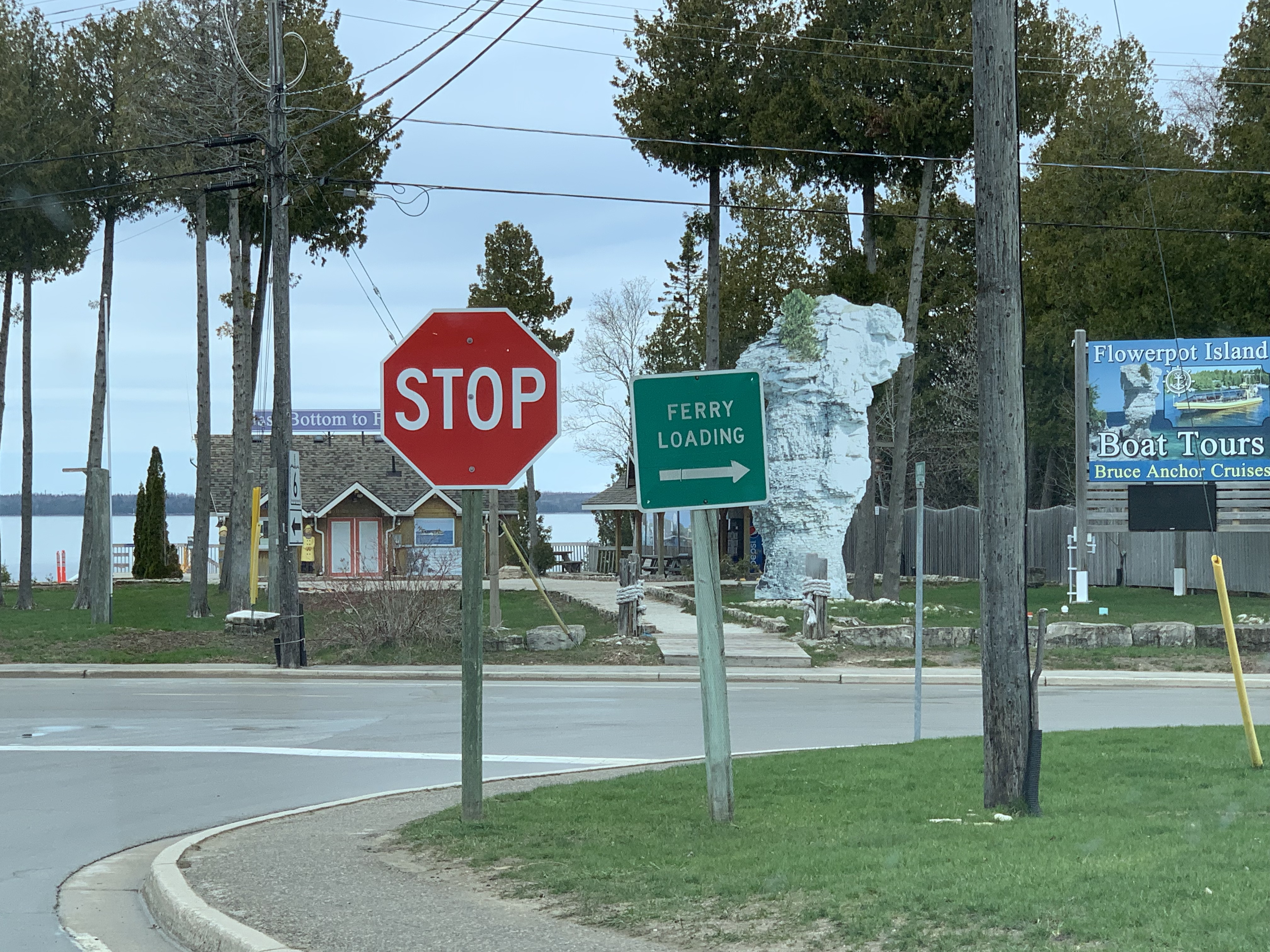 Then, I learned, you have to pay at one of two tickets booths. I thought I had paid, but turns out they only put a hold on credit cards to reserve your spot and you pay right before boarding the ferry.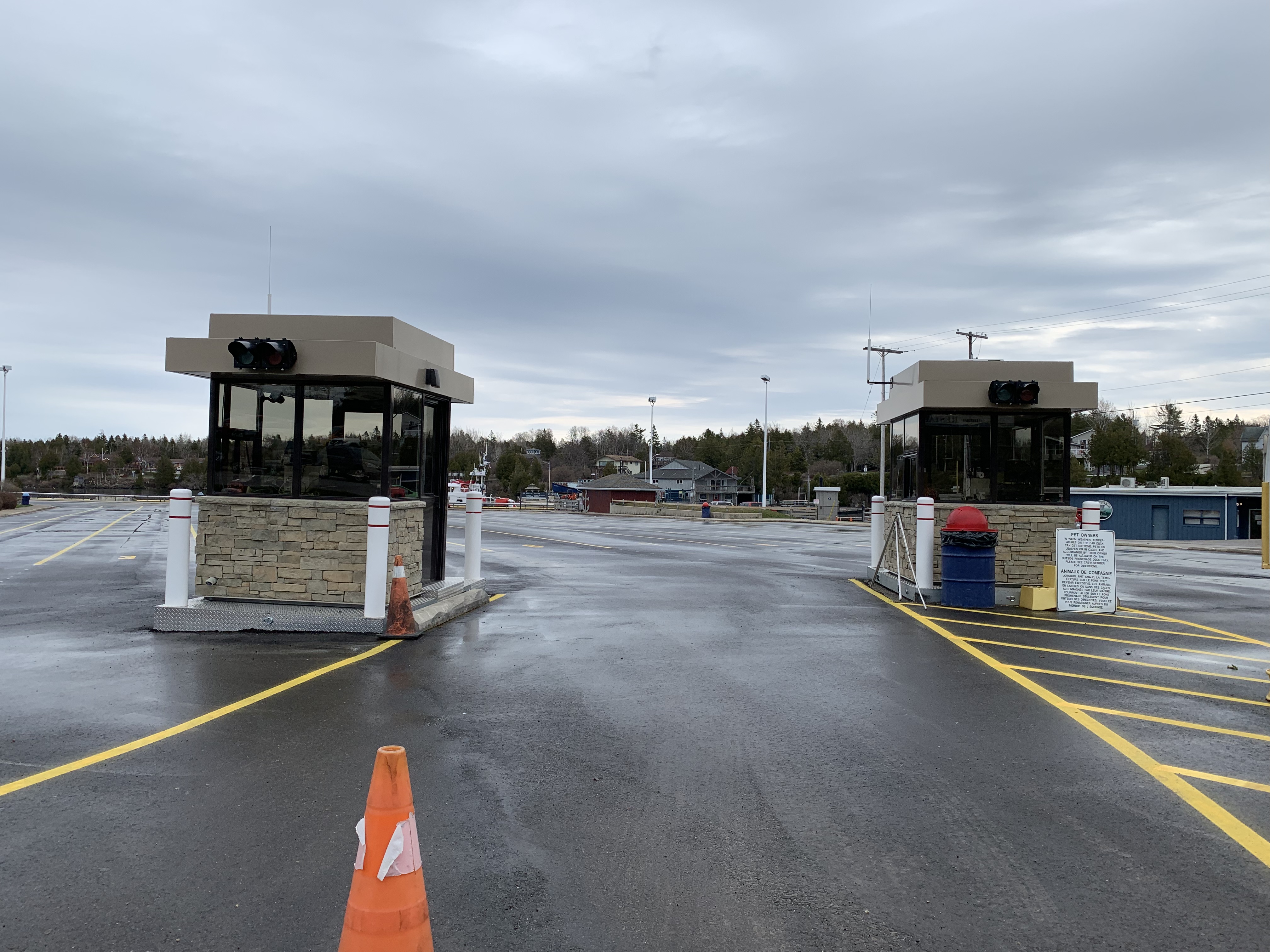 Then you actually drive onto the ferry, which takes two hours to reach Manitoulin Island.
I stopped at the ferry office to find all this out. It doesn't even say the name of the company, Ontario Ferries, on the building, but reads Owen Sound Transportation Company. Good thing it's a small town and I could figure it out.
So I poked around town, although being Monday, my first place of interest, the book store, was closed. I will head there first thing in the morning.
Here are some of the shops and restaurants in Tobermory along the harbor.
And the boats.
Here is a panorama of the harbor from this vantage point.
I noticed a large crane moving a ship off dry dock and into the water. It soon became apparent it was moving one-by-one down the dock getting these large vessels into the harbor for the 2019 season.
I videotaped the process and noticed that the name of this ship is Mamie, which is what my grandchildren call me (I wanted to be called Grammie like I called my grandmother, but when Ella was young she could only say Mamie. I really liked that because it's what the French called their grandmothers and so it stuck).
But this Mamie looks like she is in desperate need of work!
There are various cruise ships out to Flower Pot Island and glass-bottom boats to look at shipwrecks. It's very early in the season so only one is running right now. Here are two waiting the season to open.
And here are several more. I love the names Blue Heron for the smaller one and Great Blue Heron for the larger.
Here is one just leaving the dock for a two-hour cruise.
Here is a map of Flowerpot Island. This was the first place we took wildflower photos on the safari. We lay on the ground to capture images of exquisite dainty lady slipper and other orchids.
Here's a satellite image with various highlights noted.
And this is the larger area where there are several shipwrecks–Sweepstakes being very close the surface in a shallow harbor–and sea caves.
Here is the schedule and prices of the only one running right now.
I stopped at Tobermory Press to pick up a large laminated map of the Bruce Peninsula for my own research and to share with students.
I noted more Niagara Escarpment rocks are acting as a border to the parking lot.
And their company car is a Subaru Crosstrek, sorely needed in this winter northern locale.
I went back to the B&B to heat up some vegetable soup for lunch and do some research. It was quite chilly sitting for a couple hours so by four I headed to the Park Canada visitor center. I talked with a staff member about the area and the islands and came away with some brochures and a huge navy-blue Parks Canada hooded sweatshirt to keep me warm. Later I heated up the rest of my whitefish dinner from last night to enjoy a second time.
I won't be going on the boat cruise this time. I not only did it last time, but I'll be on the two-hour ferry ride out to Manitoulin Island. Last time I also went to several Fathom Five National Park areas taking photos of wildflowers and, at dawn, the Big Tub Lighthouse. But this time in the morning I may walk out to the grotto, which I didn't do last time, before heading to the book store and parking my car to await the ferry and the new adventures that follow.